Glass can survive for thousands of years and yet millions of tons of it enters into our landfills each year. The use of recycled bottle glass is a rarity in modern American art glass studios. We accept the use of bottle glass with all of its challenges and limitations (it was never formulated for hand-working), and we love the results we've crafted from it! The gallery on this page illustrates some of our early work utilizing bottle glass.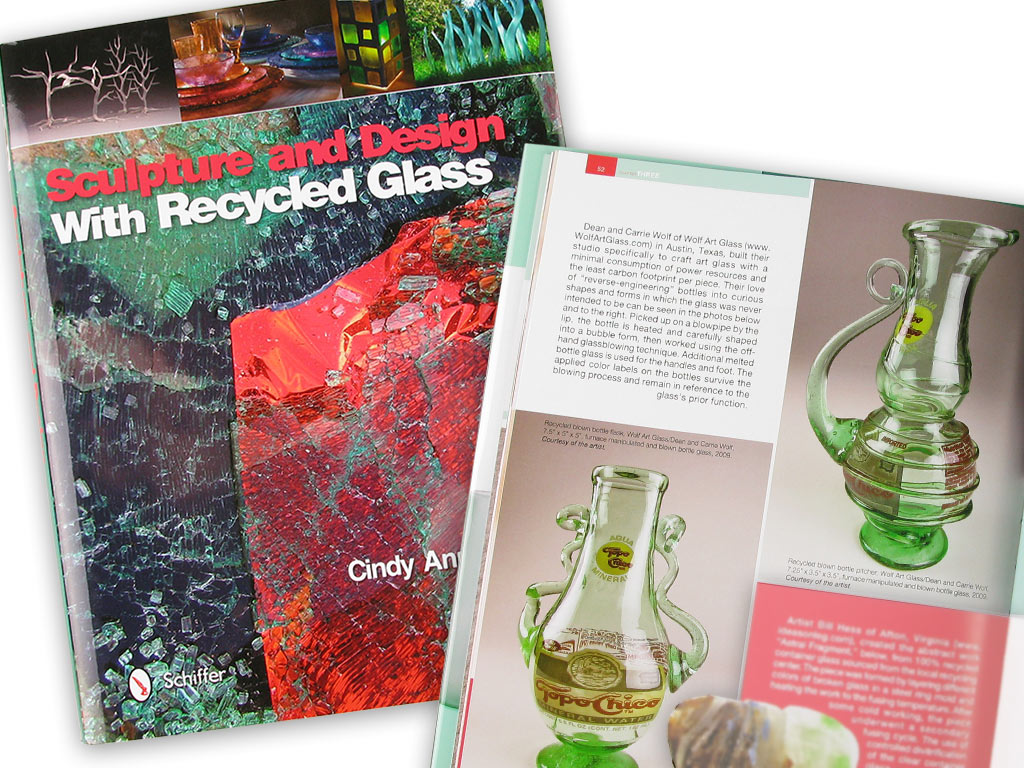 We are excited and honored to have our recycled bottle art featured in the book Sculpture and Design With Recycled Glass
. Please click the image to the right to view the book on Amazon.
---
Howdy & merry Christmas y'all! This Texas-centric etched ball is uniquely blown with 100% post-consumer recycled Lone Star beer bottle glass! Crafted while keepin' it weird & eco in the heart of Texas! This listing is for one ornament.
Living in Texas is hot work and blowing glass in Texas is seriously hot work! This requires us to drink lots of fluids, and one of our favorite beverages is Topo Chico mineral water. Besides the hydration factor, we love the gorgeous seafoam green color of the glass bottle and use it to blow glass pieces and also create beautiful lampwork beads.
The beads in this pair of earrings are made from beautiful amber Lone Star beer bottles that we have crushed, melted and then pulled into long sticks of cane. Dean works his magic on the lampwork torch to create these pretty little beads. Each bead is kiln annealed to provide strength and durability.